Rent Storage Units & Portable Storage
New Hartford - N.Utica/Marcy N.Y.
We offer a wide variety of storage unit types and sizes to meet any requirements you might need. We take pride in making sure our storage units are clean, secure & most of all-affordable. Feel free to call us anytime for your unit or simply rent your storage unit below!
Please review the pages for Portable Storage, Self-Storage, College Students and More (info.) to understand the period and terms of rental for our storage units. Following that, browse our available units. Rent your storage unit online by selecting the size and payment option and then clicking the rent now link. If you need help please call (315) 724-7156 for assistance or contact us via our online form.
Virtual Space (does not exist) (1 x 1 x 1)
This is NOT an actual "physical space".....but
you must be looking for a real storage unit that
you can use. I usually have unlisted units which
will be coming available soon.
Please call to discuss your needs and time frame.
Please contact us for unit availability.
ZIP - P.O.D. Capacity of 4 - 5 rooms household items. (20 x 8 x 6.25)
PORTABLE STORAGE - A large enclosed cargo transporter with a very low load height, using a low angle ramp for easy loading. Intended for shot term* moving/storage serving CNY; generally for a minimum of four (4) days or weekly with a sliding scale rental rate.
1st wk. days 1-4 @ $60 min, days 5-7@ $5.00/day(75.00),
2nd wk./plus 1st wk@ $8.50/day(60.00),
3rd wk./plus previous wks @ 7.00/day(49.00)
4th wk.plus previous wks @ 6.00/day(42.00)
%th week & beyond REPEATS/RESTARTS from 1st wk.
* Since the Zip-Pod is intended for short term usage there is a Maximum of six(6) weeks.
For use beyond three or four weeks you should consider monthly rental of our portable storage unit.

The $135.00 reservation price reflects the average customer rental for two(2) wks (plus transport charges)*

* see website portable page for additional info and transportation rates for your area..

Prepaid but unused rental beyond 4th day will be prorated and refunded.
Questions......just call I will gladly discuss how it all works
Online reservation, copy of rental agreement with delivery.

NOTE; NOT INTENDED FOR STUDENT RENTAL
Portable (8 x 20 x 7.5)
Large portable unit. Slightly smaller than one stall garage.Holds approx. 4-5 rooms of household goods. (see website for additional information and delivery rates).
NOT FOR STUDENT ON CAMPUS DELIVERY
Marcy / N. Utica (10 x 20 x 10)
Holds approx.5-6 rooms of household goods. Unit at loading dock height for easy loading directly to / from truck. Unit has extra rear ceiling height. AVAILABLE: month to month
call for information.
Marcy / N. Utica (14 x 24 x 8)
Holds approx. 6-8 rooms of household goods. Note:Unit @ loading dock height unload directly form truck into unit. Available month to month, call for details
Parking Outside - Marcy/North Utica (20 x 10 x 15)
Starting at only $1.00/day !
Outside parking, for cars, pickups, utility/cargo trailers jet skis, snowmobile trailers up to 20'. For 4, 6 or 8 months pre payment is required. 4 mos. 100.00, 6mos. 140.00, 8 mos. 170.00

Sorry, no tractor trailers.
Parking Outside - Marcy/North Utica (35 x 10 x 15)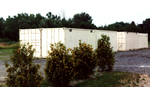 Outside parking for boats, motorhome, RV trailers.
Up to approx. 35 ft.' (slide outs retracted).
For 4, 6, or 8 months , pre payment required.
4 @ $120.00 , 6 @ $160.00, 8 @ $200.00

Sorry, no tractor trailers.