Rent Storage Units & Portable Storage
New Hartford - N.Utica/Marcy N.Y.
We offer a wide variety of storage unit types and sizes to meet any requirements you might need. We take pride in making sure our storage units are clean, secure & most of all-affordable. Feel free to call us anytime for your unit or simply rent your storage unit below!
Please review the pages for Portable Storage, Self-Storage, College Students and More (info.) to understand the period and terms of rental for our storage units. Following that, browse our available units. Rent your storage unit online by selecting the size and payment option and then clicking the rent now link. If you need help please call (315) 724-7156 for assistance or contact us via our online form.
Virtual Space (does not exist) (1 x 1 x 1)
This is NOT an actual "physical space".....but
you must be looking for a real storage unit that
you can use. I usually have unlisted units which
will be coming available soon.
Please call to discuss your needs and time frame.
Please contact us for unit availability.
New Hartford (5 x 10 x 8)
About 1/4 the size of a one-
car garage Great for
seasonal items such as
snow blowers, lawn mowers,
garden items, camping gear,
holiday decorations etc.
NH Warehouse 2nd floor (8 x 10 x 7)
Indoor unit. Envision a large-sized walk-in closet. Ceiling 7 ft. at door, angles downward to floor level at rear.
Portable (8 x 20 x 7.5)
Large portable unit. Slightly smaller than one stall garage.Holds approx. 4-5 rooms of household goods. (see website for additional information and delivery rates).
NOT FOR STUDENT ON CAMPUS DELIVERY
New Harford (10 x 20 x 8)
About the size of a standard one car garage. holds approx. 5-6 rooms of household goods and misc. items.
Marcy / N. Utica (10 x 20 x 10)
Holds approx.5-6 rooms of household goods. Unit at loading dock height for easy loading directly to / from truck. Unit has extra rear ceiling height. AVAILABLE: month to month
call for information.
Marcy / N. Utica (14 x 24 x 8)
Holds approx. 6-8 rooms of household goods. Note:Unit @ loading dock height unload directly form truck into unit. Available month to month, call for details
Parking Outside - Marcy/North Utica (20 x 10 x 15)
Starting at only $1.00/day !
Outside parking, for cars, pickups, utility/cargo trailers jet skis, snowmobile trailers up to 20'. For 4, 6 or 8 months pre payment is required. 4 mos. 100.00, 6mos. 140.00, 8 mos. 170.00

Sorry, no tractor trailers.
Parking Outside - Marcy/North Utica (35 x 10 x 15)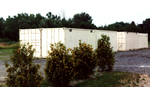 Outside parking for boats, motorhome, RV trailers.
Up to approx. 35 ft.' (slide outs retracted).
For 4, 6, or 8 months , pre payment required.
4 @ $120.00 , 6 @ $160.00, 8 @ $200.00

Sorry, no tractor trailers.